Telecommunication equipment for high-speed optical transport networks

The "Almaz" is an efficient platform based on modern DWDM/OTN technologies designed for high-speed transport networks. It supports up to 800 Gbps per lambda, with a total system capacity of up to 38 Tbps over a single fiber pair. Almaz comes in 1/3/6/10RU form factor chassis and can be housed in 19/21" telecom racks.
Platform for Any Topologies

A wide range of transponder/muxponder modules with flexible settings of line interface modes caters to the needs of operators in building metro, regional, and backbone optical networks. A diverse selection of amplifiers (EDFA, RAMAN, EAM, ROPA, hybrid EDFA+RAMAN) enables the deployment of long and ultra-long-haul single-span lines. The availability of electrical and optical cross-connect modules allows the creation of complex network topologies. To ensure connection reliability, software-hardware mechanisms are in place to support 1+1 optical and electrical level protection. Forward error correction (FEC) mechanisms, including Super-FEC, HD-FEC, and SD-FEC, provide significant operational margins and increase the length of regeneration links.
Network Scalability and Upgradability
The platform enables a rapid increase in network capacity by adding modules to the available slots in the chassis or by increasing the line bitrate of optical channels. Network reconfiguration and expansion can be carried out without interrupting communication. A wide selection of client interfaces facilitates seamless upgrading of outdated communication lines to modern high-speed, next-generation network.
A New Level of Network Management and Infrastructure Monitoring
The carrier-class management system is designed for centralized control of DWDM network and seamless integration with external IT systems (OSS/BSS). The NMS provides comprehensive information about the network structure and the overall state of communication channels at various levels of network organization. The embedded OTDR module allows operators to monitor the condition of the optical infrastructure in real-time, preventing network failures and minimizing downtime.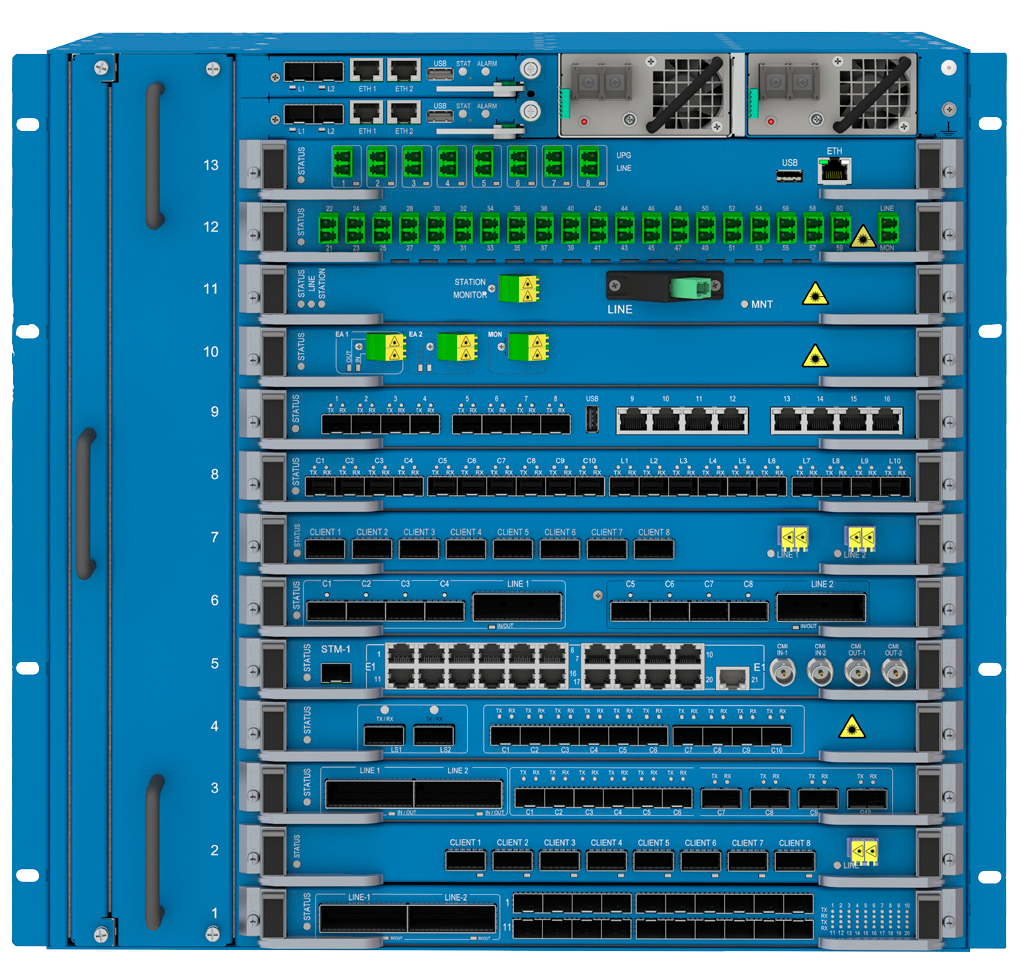 Power and Flexibility
Form factor from 1 to 10U

Wide range of equipment for channel bitrate from 155 Mbps to 800 Gbps

ROADM: WSS 1x1, 1x2, 1x4, 1x9

Optical amplifiers: EDFA, RAMAN, EAM, ROPA, and hybrid EDFA+RAMAN

Carrier-class management system
Efficiency
High density of client interfaces

Up to 1.2 Tbps per slot

Quick installation on existing communication lines

Support for "Alien Wavelength" technology
Reliability
1+1 control and power redundancy

Embedded OTDR system for real-time fiber monitoring.
Certification
Departmental certification

Equipment in the register of innovative products recommended for purchase.
Chassis

iTN15000-E-DC3U2

iTN15000-E-DC6U2

iTN15000-E-DC10U2

Slots

13

7

3

Control Unit Redundancy

1+1 (optional)

Power Supply Unit Redundancy

1+1

Management System

NMS "iTNEC-NMS-SWT"

Airflow Direction

Side (left to right)

Electrical Power Supply

AC 220 V 50 Hz / DC 36-72

Dimensions (W x H x D)

482 x 441 x 340 mm

482 x 258.2 x 340 mm

482 x 136.2 x 340 mm

Operating Temperature

From +5 to +40 °C

Maximum Humidity

80% (at +25 °C)

Chassis Power Consumption (without equipment)

160 W

113 W

63 W

Chassis Weight (without equipment)

12 kg

8.6 kg

7.4 kg
Description of the DWDM System ALMAZ Telecom

Distributed Accustic Senser as subsystem of "Almaz"
DAS Almas is security system to monitor territory against unauthorized access. It detects ground vibration (acoustic vibrations) on distance tenths of kilometers with accuracy 10m and better.